Repair Living Air Classic former XL-15
We used to repair these before for a flat fee that ranged from $179.99 to $299.99 plus shipping.
You also had to pack your old unit, pay to ship it to us, wait 3-4 weeks, and finally get your repaired old unit back with limited warranty.

Today, instead of repairing your old machine we are able to offer you a brand new model in same price range as repair used to cost.

Advantages:

You don't need to spend time and money shipping your old unit to us.
You don't need to wait 3-4 weeks for us to repair it.
You get a brand new model for about the same price as repair used to cost.
And you get it with full warranty instead of limited as before.
You get to keep your old unit for spare parts and accessories.
All New 2019 Living Air Classic XL-15 Model
The Living Air Classic HEPA
Now with 6 stages of Air Purification
and
3-year Warranty
1.
Negative Ion Generation Technology
2.
Adjustable Ozone Generation up to 500 mg/hr.
3.
Activated Carbon Deodorization
4.
UVC bulb to kill virus & bacteria in air that passes through the machine
5.
Photo-catalytic filter to kill virus & bacteria on all surfaces outside the machine
6.
Washable HEPA filter to eliminate small particles and dust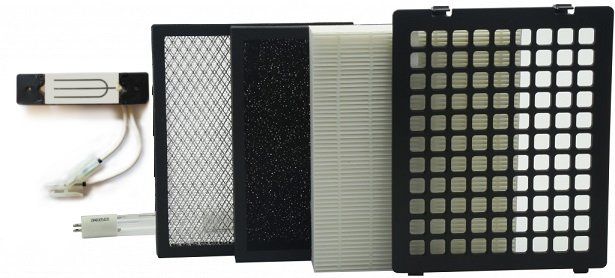 FEATURES:


• Adjustable Fan Speed Control 1500-3000R/M

• Compact

• Portable

• No Duct work Required

• No Chemicals

• Low Maintenance

• Low Electrical Usage

• Complete User Control

• No Residual Contamination

APPLICATIONS:

• Home, Office, Restaurant, Hotel

• Smoking Areas

• Production Areas

• Basements

• Casinos & Large Meeting Halls

• Veterinary Hospitals

• Barns, Kennels & Stables

• Photo Labs & Salons

• Day Care Centers

• Chemical Storages

• Bowling Alleys & Parlors

• Public Restrooms




SPECIFICATIONS:


Model:

Living Air Classic HEPA

Rated Voltage:

110-120V/60Hz

Power Consumption:

40W

Fan Speed (non-grade):

1500-3000 R/M

Ion Output:

20KV and 5 million/cm

3 Air Volume:

Max 300 CFM (3 m3/min)

Ozone:

(Off/On) ≤0.05ppm / Max=500mg/h

UV Spectrum:

≥20ìw/cm2 (at 10 cm-distance)

Sound Level (DB):

Low35 Med45 High50

Particulate Purifying Rate:

0.3 micron up to 80%; 1 micron up to 99.97%

Product Size:

W8.27" x D10.36" x H11.42" (W210mm x D263mm x H290mm)

Weight:

10.2 Pounds (4.6 kg)

Weight with box:

12.6 Pounds (5.7 kg)

Applicable Area: 3200 ft2 (300m2)
Warranty: 3 Years