OZON O3
O₃ is a gas made up of three oxygen atoms. It has strong oxidizing power. In nature, an electric glow forming an electrical charge or a spark from lightning creates O₃. This O₃ is a very powerful oxidizing agent, which means that it can easily attract electrons from other molecules towards itself and have an effect on them.
In nature, the O₃ molecules that are generated in the air after rainstorms come into contact with various microorganisms and destroy bacteria by attacking the membrane of the cell, causing the cell to explode and its contents to be released. This thunderstorm effect is created within the device using a ceramic plate with a metal screen/mesh.
Because of its oxidizing ability, O₃ molecules released by the device punctures the cell-walls of bacteria, stops viruses from reproducing, and are excellent at assisting with the purification of the air. Bring the incredible power of thunder and lightning storms inside to help sanitise the air you breathe!
O₃
O₂ molecules enter the air purifier and hit the special ceramic plate with metal mesh. Special high voltage generator creates 5000 volts and supplies them to that plate so O₂ molecules that come through the ceramic plate can be reformed into O₃ molecules and become trioxygen. Three O₂ molecules are reformed into two O₃ molecules. When a trioxygen molecule comes in contact with any organic or chemical binding in the air it uses that third active atom to break that binding and neutralize it.
WHAT IS O₃?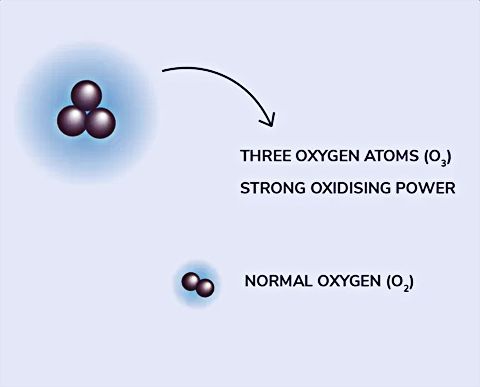 HOW DOES THIS PRODUCE O₃?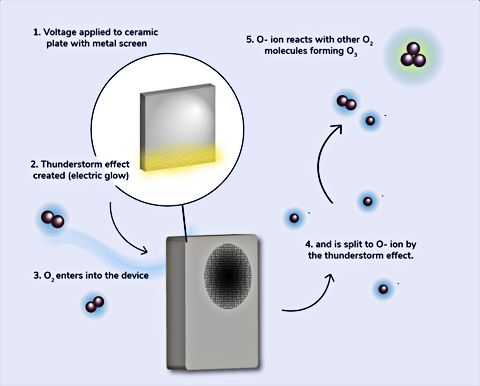 EFFECTS OF O₃ AGAINST VIRUS?

O₃ released from the device comes into contact with the virus
O₃ damages the viral capsid and enters the virus
Disruption of reproductive cycle
EFFECTS OF O₃ AGAINST FUNGI?

O₃ released from the device comes into contact with the fungal cells
O₃ oxidises the amino acids and fatty acids in the cell wall
Fungal cell wall disrupted