CATEGORIES
Customer reviews
Kevin of Austin, TX
Thank you for recommending the new classic Hepa of yours. Much better than my old Classic XL-15, quieter and stronger, too. Will recommend to friends and family. God Bless and keep up the good customer service!
Greg of N. Hollywood, CA
I have bought a refurbished Fresh Air, but they did not have one, so they sent me a brand new one with no additional money. Unit came in 5 days and works great. Very friendly customer service! Will buy again!
Detail
Living Air Classic HEPA synergizes original ionization technology and revolutionary low-level ozone generation for best results in smoke and odor removal in various spaces. Its effectiveness and reliability is combined with stylish retro design. Living Air Classic HEPA is almost silent, nevertheless immensely powerful and it does easily eliminate unwanted smoke and odors.
Negative Ion Generation Technology
Adjustable Ozone Generation up to 500 mg/hr.
Activated Carbon Deodorization
UVC bulb to kill virus & bacteria in air that passes through the machine
Photo-catalytic filter to kill virus & bacteria on all surfaces outside the machine
Washable HEPA filter to eliminate small particles and dust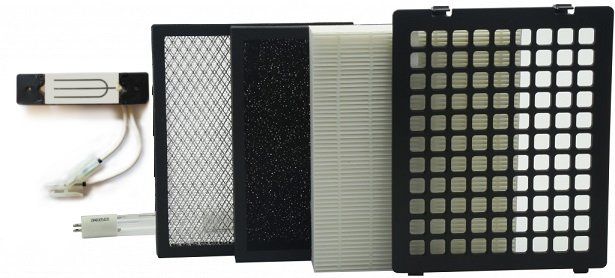 FEATURES:
Adjustable Fan Speed Control 1500-3000R/M
Compact
Portable
No Duct work Required
No Chemicals
Low Maintenance
Low Electrical Usage
Complete User Control
No Residual Contamination

APPLICATIONS:
Home, Office, Restaurant, Hotel
Smoking Areas
Production Areas
Basements
Casinos & Large Meeting Halls
Veterinary Hospitals
Barns, Kennels & Stables
Photo Labs & Salons
Day Care Centers
Chemical Storages
Bowling Alleys & Parlors
Public Restrooms

The concept of Living Air Classic HEPA was developed with three main ideas in mind that can be summed up as innovative, easily adjustable and reliable. Tired of odors after cooking? Place it in your kitchen – and you won't have to worry about cooking smoke anymore. Smoking? No problem either! Just turn Living Air Classic HEPA on and even the smallest traces of tobacco smoke will vanish. The unit delivers fresh air on your whim where it's needed.
But the most amazing thing about this device that it works without frequently scheduled maintenances. Get it, install it, set preferred options, and enjoy fresh and clean air every day! As easy as it sounds!
Advantages of Living Air Classic HEPA:
Not only effectively, but also quickly cleans air from smoke, including cooking and cigarette smoke
Purifies air and removes even heavy odors and stench
Works practically silent and creates no distraction for users
Easy maintenance
Recreates a unique sensation of a thunderstorm in your home or office

SPECIFICATIONS:

Model: Living Air Classic HEPA
Rated Voltage: 110-120V/60Hz
Power Consumption: 40W
Fan Speed (non-grade): 1500-3000 R/M
Ion Output: 20KV and 5 million/cm3
Air Volume: Max 300 CFM (3 m3/min)
Ozone: (Off/On) ≤0.05ppm / Max=500mg/h
UV Spectrum: ≥20ìw/cm2 (at 10 cm-distance)
Sound Level (DB): Low35 Med45 High50
Particulate Purifying Rate: 0.3 micron up to 80%; 1 micron up to 99.97%
Product Size: W8.27" x D10.36" x H11.42" (W210mm x D263mm x H290mm)
Weight: 10.2 Pounds (4.6 kg)
Weight with box: 12.6 Pounds (5.7 kg)

Applicable Area:
3200 ft
2
(300m
2
)
Warranty:
3 Years