Induct 5000 purifier
Every unit from the activTek INDUCT series features magnificent ActivePure® technology, and the activTek INDUCT 5000 is not an exception. In a blink of an eye it removes unpleasant odors and visible smoke from your indoor environment should you just push the button. ActivePure® technology also leaves no chances for any pollutants having a fiesta on surfaces in your home or office. This unit has an option for 120 volt installation and for 240 volt as well. The INDUCT 5000 should be ins erted in to a ductwork or plenum to boost your HVAC system's performance. It requires practically no maintenance and no cleaning. A built-in UV bulb serves as monitoring indicator. This small unit is powerful enough to cover zones up to 5000 square feet.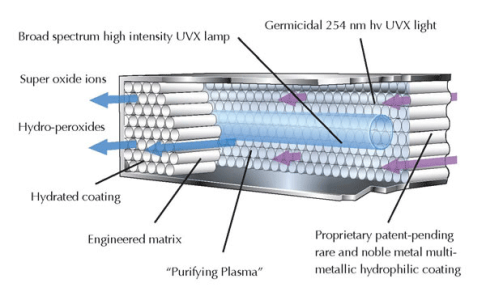 Note: we suggest you calling your local HVAC-service specialist for proper installation of this unit.
Installation:
Typical INDUCT Installation
120 or 240 volt connection available.
Has 4 holes in chassis for easier and quicker installation. Its design allows multiple unit installation in one plenum area. Just line up units properly so all of them incur direct air flow.

A little window 4" or ~10.16 cm in the local duct is required for optimal installation.
The INDUCT 5000 should be planted after the main air treating unit in your HVAC system.
The plenum area must be cleansed and 100% dry before the installation so the gasket materials stick together properly.
The activTek INDUCT series has various units to offer the best scalability with air flow rates of different HVAC systems. Please, be sure to check the square footage of the intended area and pick the model that is suitable for your specific needs.
Specifications:
| | |
| --- | --- |
| electrical | 120-240 VAC, 50/60 Hz | 20 watts |
| mechanical | UV bulb monitoring system installed | safety interlock switch installed |
| dimensions | 9"H x 9"W x 17"L | 23cm H x 23cm W x 43cm L |
| weight | 4 pounds | 1.8 kilograms |
| coverage | up to 5000 square feet |
| max temp | <200°F |
| warranty | 1 year |