CATEGORIES
Customer reviews
Kevin of Austin, TX
Thank you for recommending the new classic Hepa of yours. Much better than my old Classic XL-15, quieter and stronger, too. Will recommend to friends and family. God Bless and keep up the good customer service!
Greg of N. Hollywood, CA
I have bought a refurbished Fresh Air, but they did not have one, so they sent me a brand new one with no additional money. Unit came in 5 days and works great. Very friendly customer service! Will buy again!
EcoDuct Induct 2000 Air Scrubber With Ozone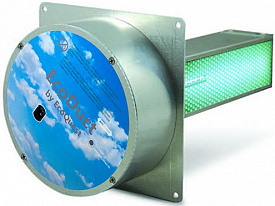 Attention: EcoDuct 2000, InDuct 2000, DuctwoRx, Air Scrubber Plus, and ReSPR 1000 are all same unit under different brand names manufactured for different companies. RCI cell and PCO cell are also same things.
The EcoDuct In-duct units eliminate odors, visible smoke, and microbial populations in air and on surfaces, utilizing the newest Active-Ox technology. Perfect for indoor pollution control, odor reduction, contamination prevention, etc... Active-Ox technology consists of specially selected length of UV light and photocatalytic target, creating an Advanced Oxidation Process.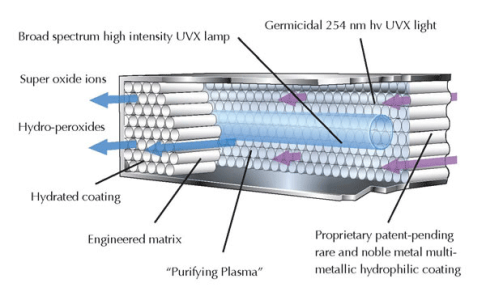 Standard ECODUCT Installation:


Note: we recommend hiring a qualified HVAC professional to install this unit.
Allows wiring into a 100 - 277 volt connection.
Quick installation with the help of 4 mounting holes in chassis.
Having several units in one plenum area won't be a problem as the installation can be easily shifted so all units incur direct air flow.
Be sure to install the unit right after the main air handler in the HVAC system.
Specifications:
| | |
| --- | --- |
| electrical | 100-277 VAC, 50/60 Hz | .17A 19 watts |
| mechanical | UV bulb monitoring system installed | Safety interlock switch installed |
| dimensions | 9.62"H x 9.62"W X 11.25" D | 24cm L x 24.5cm W x 28.5cm D |
| weight | 3 pound | 1.2 kilograms |
| coverage | up to 2000 square feet |
| max temp | <200°F |
| air volume per unit | 2550 m3/h |